Mattias MacNamara
Matthias McNamara was the Lieutenant-Governor and then Acting Governor of the short-lived Province of Senegambia, Britain's first formal colony in Africa, established in 1765 and disbanded officially in 1783. He was born into a wealthy Catholic family of Ardcloney, near Killaloe in County of Clare, Ireland. His mother was Mary O'Callaghan. He had five siblings, of note was his brother, Daniel McNamara, who became a lawyer in Lincoln's Inn Fields, London, and earned a reputation as a Catholic activist. It is likely that his family's wealth came from its involvement in West Indian slavery.
At the termination of the Seven Years War, the British consolidated its claims to coastal outposts in the region of modern Senegal and Gambia. The colonial status for what was named the Province of Senegambia was modelled on British possessions in the Americas but never had a resident settler or merchant community large enough to implement the official mandate in West Africa. In 1774, McNamara was appointed Lieutenant-Governor of James Island under Senegambia's governor, Charles O'Hara, whom he succeeded in November 1775, a position that McNamara held until his dismissal and recall in 1778. Many high-ranking officials were confused by his appointment, as McNamara was not a well-liked man. The Chief Justice of Senegambia, Edward Morse, described him "as a man without education, extremely brutal, vulgar, and avaricious, but possessed of an uncommon share of natural parts" (Morse to Lord Townshend, 12 August 1782, CO 267/20). In his classic A History of the Gambia (1966), J.M. Gray described McNamara as a "singularly unlovable and unpleasant person – conceited and a venomous backbiter." As Acting Governor, he was arrogant, short-tempered, irresponsible, and deceitful. He was guilty of imprisoning his adversaries in the "black hole" under the stairs at James Island, one of whom being Captain Joseph Wall of Goree Island, his senior military officer, and his predecessor's second in command. The two did not get along and things came to a head when Wall refused to obey McNamara's orders, at which time McNamara arrested him and placed him in solitary confinement for ten months in a six by eight-foot cell. Upon his release, Wall brought two actions against MacNamara, one for false imprisonment and the other for embezzlement. After two months, a British court found that McNamara's justification for Wall's confinement was "frivolous, groundless, and vexatious." Wall was awarded £1000 in damages, and he subsequently assumed McNamara's position in Senegambia, where he committed equally heinous acts and was ultimately executed in London in 1805.
McNamara's problems were far from over. In June 1777 he was charged with assault, subornation of perjury, and illegal trading, following a series of diplomatic clashes with France during his administration of Senegambia. His case came before the Board of Trade in London, and upon his conviction on all counts he was officially relieved of his duties on August 28, 1778. During his time in Senegambia, McNamara was actively involved in the slave trade. This, combined with his propensity for stealing the goods of officers whom he had detained illegally, allowed him to amass a considerable fortune.
A curious incident happened in London during the period of McNamara's downfall. In 1777-1778 several letters appeared in newspapers, signed with the name "Gustavus Vassa," that were critical of the British government for its actions in the colonial war in North America that led to the creation of the United States. The letters are not in Vassa's writing style and therefore were likely written by someone else. That someone else may have been Matthias McNamara, whose disgraceful return to London after his dismissal in Senegambia as well as the scandalous revelations in the courts as a result of the civil suits may have prevented him from professing his political views on the North American crisis in public. During this time, Vassa had been working as a barber in the Haymarket, where he developed a relationship with McNamara, which may have influenced McNamara in adopting Vassa's name for the purpose of publishing letters in newspapers.
Despite his embarrassing legal situation, McNamara maintained a life of splendor in London, with a large household staff. By March 11, 1779, Vassa's letters show that he was working for McNamara as a servant in his home, for how long is not known. McNamara took note of Vassa's religious dedication and recommended that he go to Africa as a missionary. At first, Vassa was hesitant due to his disastrous experience as part of Dr. Charles Irving's failed Mosquito Shore plantation scheme; however, he had a change of heart and allowed McNamara to submit a letter on his behalf to the Bishop of London. In his letter, McNamara described Vassa as a respectable man with good moral character. Vassa's application was ultimately rejected likely due to a combination of the Bishop being reluctant to send another missionary to Africa, especially during the war, as well as Vassa's poor choice of character reference. Thereafter, Vassa left McNamara's employment, after which time not much is known about McNamara. His will shows that he died a wealthy man with two plantations in the Caribbean on Granada and Tortola, property in Senegambia and London, as well as family connections to estates in Ireland. He left his African property to his mistress, Willima, whom had given birth to his children in Senegambia.
RELATED FILES AND IMAGES
REFERENCES
1.Carretta, Vincent. Equiano, the African: Biography of a Self-made Man (Athens, GA: University of Georgia Press, 2005).
2.Fagan, Patrick. "MacNamara, Daniel (1720-1800), Lawyer and Roman Catholic Activist," Oxford Dictionary of National Biography (2004).
3.Gray, J. M. A History of the Gambia (New York, NY: Barnes & Noble, 1966).
4.Lovejoy, Paul E. "The Province of Senegambia – An Early British Colony in Africa (1765-83)," in Lovejoy and Suzanne Schwarz, eds., Slavery, Abolition and Colonialism in Sierra Leone (Trenton, NJ: Africa World Press, 2014), 109-26.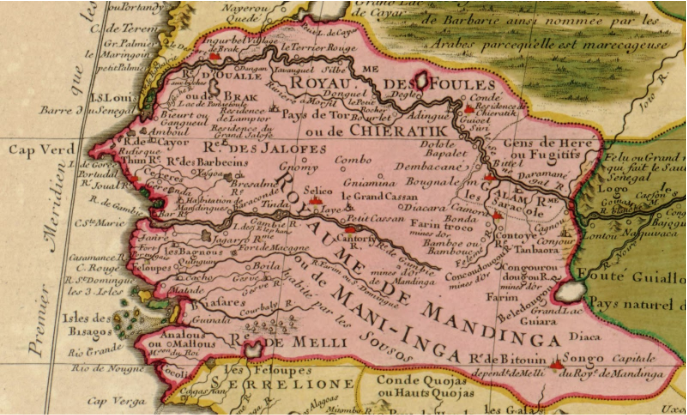 Map of Senegambia (1707) by Guillaume Delisle, Library of Congress, Geography & Map Division, Washington, DC.