Suzannah Cullen
Susannah Cullen was Gustavus Vassa's wife. She was an English woman of Scottish descent whom he apparently met on his book tour in Cambridgeshire in 1789. She subscribed to the 1790 and 1791 editions of his autobiography and may have been introduced to him by another subscriber, named Peter Peckard. Susannah came from humble beginnings, her parents, James and Ann, were people of moderate means and came from the cathedral town of Ely, also in Cambridgeshire. Her marriage was apparently seen as a respectable union, despite Vassa's former enslaved status. They were married on April 7, 1792, which Vassa announced in the 5th edition of his autobiography. The marriage was also reported in London newspapers such as Gentleman's Magazine. In its April 19-21 edition, the General Evening Post noted "Gustavus Vassa (Equiano Olaudah), the African, well known in England as the champion and advocate for procuring a suppression of the Slave Trade, was married at Soham, in Cambridgeshire to Miss Cullen, daughter of Mr. Cullen of Ely, in the same County, in the presence of a vast number of people assembled on the occasion." Vassa even stated that he was promoting the interracial unions that he advocated. The wedding took place at St. Andrew's Church. Shortly after, Susannah accompanied Vassa on his book tour through Scotland, visiting Paisley, Glasgow and Edinburgh, during which time he gave lectures, met fellow abolitionists, and collected subscribers for his autobiography. After the tour, the couple settled in Soham.
On October 16, 1793, Susannah gave birth to their first child Ann Mary (Maria). It is not known if Vassa returned to Soham to witness the birth, although her baptism may have been delayed until January 30, 1794 to ensure his presence. On April 11, 1795, Susannah gave birth to their second daughter, Joanna, who was also baptized at St. Andrew's Church, Soham on April 29, 1795. Susannah died in 1796 at the age of 34 after a long illness.
In her will dated December 12, 1795, Susannah left her estate to Vassa, which consisted of the rights to two acres of pasture between Sutton in the Isle of Ely and the County of Cambridge, which she inherited from her older sister, Mary Cullen, upon the death of their mother, although Vassa never received this bequest because the mother lived until 1820. It is presumed that Susannah's mother and aunt looked after the daughters. The older daughter, Ann Mary, died on July 21, 1797, just six months after Vassa's own death, perhaps as a result of the measles, and was buried in Chesterton in the rural district of Huntingdonshire in Cambridgeshire. Her surviving sister, Joanna, subsequently married but apparently had no children.
RELATED FILES AND IMAGES
REFERENCES
Carretta, Vincent. Equiano, the African: Biography of a Self-made Man (Athens, GA: University of Georgia Press, 2005).
Osborne, Angelina. Equiano's Daughter: The Life of & Times of Joanna Vassa, Daughter of Olaudah Equiano, Gustavus Vassa, the African (London, EG: Krik Krak, 2007).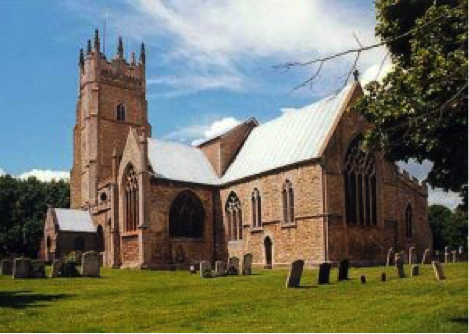 St. Andrew's Church, Soham.
Photo Credit: John Salmon, licensed for reuse under the Creative Commons Licence.